Yvonne Francis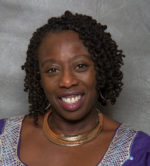 Contact Name:
Yvonne Francis
Achievements & Accomplishments:
Yvonne Francis is an independent freelance musician who delights in exploring her talents in a variety of artistic arenas. This multi-talented musician performs music, which encompasses African derived idioms from classical, contemporary, jazz through to new wave.
Yvonne obtained a musical education with the Royal Conservatory of Music on the piano and saxophone and a Specialized Honors B.F.A in  Music from York University. Yvonne's virtuosity on the saxophone, trumpet, steel drums, African drums and other percussive instruments enabled her to perform with a variety of groups and teach music within the education system of the GTA. She has performed in Ghana, West Africa, Trinidad & Tobago, Guyana and the USA.
Mentorship is an important service to Yvonne and her desire to mentor youth has taken her behind the scenes of the music industry. Motivation to help others has led Yvonne to co-create organizations that work at developing the talents of youth within the Black Community. She is the co-founder and current Music Director of Toronto's famed youth-oriented Ngoma Drum and Dance Ensemble. This group is in its third generation of performers. At the time of conception, there was no succession for organizations focused on African drumming. Ngoma prevailed and is a trailblazer in the industry by being the first children's drum and dance ensemble in Ontario.