Yvette Hélène Yende-Ashiri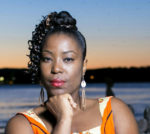 Contact Name:
Yvette Hélène Yende-Ashiri
Achievements & Accomplishments:
Yvette Yende-Ashiri is a strong and passionate advocate for social justice, human's rights and an agent of positive change. Her advocacy centers on minority rights, especially, women's rights. She is not only an activist, but also an exceptional leader for all French-speaking women for the National Capital Region.
Yvette joined the Junior Chamber International (JCI) in Paris, 2006, a global non-profit organization that encourages young active citizens, 18 to 40 years, who are committed to creating positive change in communities and for the future of the world. While at JCI, Africa and the Middle Conference in Monastir, Tunisia, she was recognized for her drive, professionalism and dedication among more than 1200 participants as the "Best Attendee" at the conference. This opened doors for her to take on  several roles, such as Assistant to the Director of Development and Growth and the Middle East,  Maîtresse of Conferences and World Congresses and Award Jury and Local President, within this organization where she has been a member for more than ten years.
Yvette has lived in Canada since 2009.  As an active and involved newcomer to Canada, she created Ottawa's Junior Chamber International in 2011. As a mother, wife and newcomer to the National Capital Region, she identified this commitment as one of her first major challenges and served as Chair for two years. Deeply touched by the violence against women, the desperate situation of street children and the impunity/chaos of the Democratic Republic of the Congo (DRC), Yvette decided to become active in the protection of women and she co-created the Miss Congo Canada (MCC) contest in 2013. Every two years MCC crowns a young Francophone-Canadian-Congolese woman who has the role of being Ambassador to promote the fight to counter violence against women and children in Canada, the DRC and also the Congolese culture in Canada.