Wendy Jones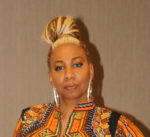 Contact Name:
Wendy Jones
Achievements & Accomplishments:
Wendy Jones is the quintessential ambassador of the Steel Pan. She has received numerous awards for her exceptional skills as a Panist and her work in pan is being recognized internationally. For the past 25 years, she has worked for the Toronto Catholic District School Board as a Counselor in the Elementary and Secondary Schools and also works as an Event facilitator at Tropicana Community Services. Wendy was born on the twin-island Republic of Trinidad and Tobago. She came to Canada at an early age as her mom decided to migrate to seek a better life and education for her children. She was introduced to pan music in 1976, while she was enrolled at Westview Centennial Secondary School.
She deserves the highest praise for using the Steel Pan as a Cultural Tool to draw families into the Pan Fraternity: To Inspire Youths, to Ignite leadership Skills and To Affect Social Change. She is a Co-Founder and #1 Female Bandleader of the award winning Pan Fantasy Steel Orchestra which celebrated its 31st Anniversary in 2017.
Wendy's pan journey really started in 1977 with the Afro Pan Steel band. She carries the Title "Queen of the Bass" and is the recipient of:
Woman on the Bass award 1992
Pan Arts Network Woman in Pan award 2010
Toronto Catholic District School Board Ethnic and Diversity Award 2010
Toronto Catholic District School Board Festival of the Arts Award 2015
Dance Caribe Cultural Participation Award 2014, 2015.
Recipient of the Harry Jerome Entertainment Award 2015
Consulate General of Trinidad and Tobago Outstanding Contribution Award 2015
Honorary Mention in Published Book 1962-2012 "Trinidad & Tobago in Canada "
Cultural Recognition Award (for 20 years of service) High Commission for The Republic of Trinidad & Tobago 2017.
As a founding member of the North York Inter-Community Youth Group, she has organized numerous concerts, workshops, fashion shows and a variety of recreational activities in the Jane and Finch area, the Greater Toronto Area (GTA) and other communities.