Victoria Nelson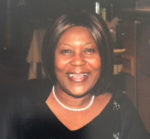 Contact Name:
Victoria Nelson
Achievements & Accomplishments:
Dr. Victoria Nelson immigrated from Jamaica to Canada in August 1970, and worked as a nurse until 1982. She attended Humber College in Toronto, where she received a Diploma as a Rehabilitation Counsellor.  She worked for the City of Toronto as a Caseworker and a Vocational Counsellor for the Workers' Health and Safety Centre.
Victoria earned a Master's Degree in Theology from Beacon University in the United States, another Master's Degree in Christian Counselling and a Doctorate in Theology at the Kingdom Covenant Leadership Institute in Ontario.  Dr. Nelson is an Ordained Minister and Chaplin at Kingdom Covenant Ministries in Mississauga.
She was involved in two research projects that she believes affected her community. One is entitled "Suffering in Silence", which addresses the reason why some women remain in abusive relationships. The other is entitled "Recidivism", which addresses the reasons why some youth are repeat offenders, and how their criminal records prevent them from attaining post-secondary education or finding gainful employment.