Veronica Sullivan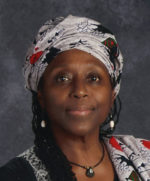 Contact Name:
Veronica Sullivan
Achievements & Accomplishments:
Veronica Sullivan – Molded by the creator from the same matter of my great Ancient African Ancestors, carefully choosing her parents, Reginald and Vernetta Sullivan, and sisters Rita, Linda and Regina to bring Veronica into my purpose.  She migrated to Toronto, Canada at the age of ten from Barbados, and experienced all that came with being the only black student in a class, name calling, laughter at her accent, and harassment in the playground.
The power of a family grounded in the principles of Kujichagulia, self-determination, and Umoja, unity, buffered her through these times.  She found refuge at the community rallies and lectures she attended at her father's side, listening to speakers such as the late Kwame Ture and Senator Anne Cools.
By the time she reached high school she was taking an active role in lobbying for Black students to form study groups and promote awareness of the vast contributions of people of African descent. Her passion grew in this area becoming the driving force for her to become lead Black History instructor for the North York Board of Education, and piloting an integrated African Heritage Program at Orde St. School, for Toronto Board of Education (1991-1999).