Velma Morgan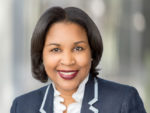 Contact Name:
Velma Morgan
Achievements & Accomplishments:
Velma Morgan is a leader with proven experience in creating and implementing policies and programs in the provincial government and education. Her comprehensive knowledge of government and public policy allows her to quickly decipher and analyze complex issues and positively contributes to a solution.
Velma has worked for the Provincial government in five ministries for four Cabinet Ministers in senior positions. Her work included working on the highly successful Pan/Para Pan American Games, overseeing the creation of government's first sports plan in 20 years entitled Game ON and the creation and passing of two legislations: The Ontario Immigration Act and Ontario Black History Month. She oversaw for the provinces Youth Justice Transformation Strategy and the Youth Opportunities Strategy that provide youth in underserved communities employment and entrepreneur opportunities. Velma also leads initiatives that are outside the mandate of the Ministry such as the first ever Black Leaders Summit in Nova Scotia and roundtables with various communities.
Velma is also a qualified educator. She is the co-author of a document entitled "Blurred Vision" that provides strategies to educators on how to harness diversity within the classroom and school system.