Tanisha Scott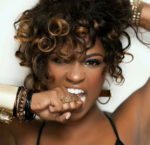 Contact Name:
Tanisha Scott
Achievements & Accomplishments:
Tanisha Scott is a world-renowned Choreographer, Performance and Creative Director. Tanisha was named by Billboard Magazine and Italian Vogue as one of the top 30 under 30 artists in the entertainment industry.
Born in Toronto of Jamaican heritage, Tanisha's exemplary work has garnered her multiple MTV awards and nominations for Best Choreographer. Her entry to dance was greatly influenced by her Jamaican roots. Her father owned a Sound System that inspired her love for music and movement. While she was enrolled at the University of Windsor on a track scholarship, she joined the local hip-hop dance troupe, Do Dat.
Tanisha auditioned for a back-up dancer slot on Mya's tour and was selected for the 'gig' by Sho-Tyme, the Singer's then choreographer. Director Hype Williams, subsequently booked Tanisha as a dancer, for various videos very early in her career including a FUBU commercial featuring LL Cool J. She earned her first choreography credit for the Little X -directed video 'Gimme The Light' for Sean Paul and continues as Sean's choreographer and creative Director for tours and videos. Her career includes Television, Film and Theatre. On Television, she was coach for 'So You Think You Can Dance Canada, a dance reality and competition show. She was also a featured guest choreographer on MTV's America's Best Dance Crew (ABDC). Doing the ABDC segment, she tutored the 787 Crew (a dance group act on Season 7, of America's Got Talent) on the popular Jamaican dances, such as 'the Dutty Wine' and the 'Chaplin' for a dance-hall inspired performance on the show dubbed the 'Rihana Challenge' which was set to the singer's music.
Having been the woman behind Rihanna's award-winning 'Loud' tour, as well as Drake's 'Summer Sixteen' (the highest grossing hip-hop tour of all time), Tanisha is highly sought after by the most acclaimed artists in music, film and television.