Stacy Clarke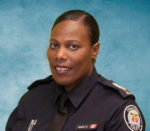 Contact Name:
Stacy Clarke
Achievements & Accomplishments:
Stacy Clarke has been a member of the Toronto Police Service since 1998.   She has served in a broad variety of uniform, investigative, training and community-oriented policing functions and has been part of a variety of community-building initiatives and partnerships.   She has a Bachelor Degree in criminology and Psychology.  Stacy is a current member of the Civic Action DiverseCity Fellowship Program that strives to foster inclusive leadership, innovation and city building within the Greater Toronto and Hamilton Areas (GTHA).  She believes strongly in continuous education and as such has attained further knowledge in the areas of Collaborative Change Management and Leading with Emotional Intelligence from the Schulich School of Business.  Stacy has completed the FBI Trilogy Leadership Program which is a three-step leadership training program for leaders in law enforcement who not only have extensive leadership potential and experience but the willingness and passion to be a change agent.  Born in Kingston Jamaica, Stacy attributes her success to her strong Jamaican upbringing.  She is a mother of two beautiful children, her daughter Jahnya and her son Kafany both of whom are her biggest inspiration.
Staff Sergeant Stacy Clarke currently leads the Learning Development & Standards section of the Toronto Police College, and is a past co-chair of the Police and Community Engagement Review (PACER).  Stacy has been a strong and influential leader in policing since she was a young constable.