Patricia Gloudon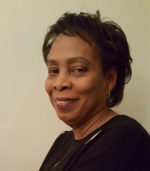 Contact Name:
Patricia Gloudon
Achievements & Accomplishments:
Patricia Gloudon is the mother of three, grandmother of six, great grandmother of one.  She was born in the island of Trinidad and migrated to the United States in 1969, to join her mother in Baltimore. She subsequently moved to New York to study Fashion Design.
In1973 she moved to Toronto, however opportunities for fashion design were limited but she continued to fulfill her dream by designing and making clothing for friends and family.
Grooming is an essential component of making a good first impression and that seems to have contributed to an agency sending her to the Bank of Nova Scotia for an interview. She joined the Bank in 1973, working in the filing room and after six months, she moved to the Accounting Department, then the Pension Fund Department. She then moved on to become the first Black woman to be on the Money Market Trade Desk and eventually became Director, of the Commercial Retail Money Market Trading Desk.