Norma Walker-Dickens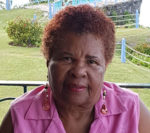 Contact Name:
Norma Walker-Dickens
Achievements & Accomplishments:
 Norma Walker-Dickens was born in St. Catherine, Jamaica.  She came to Canada with her baby daughter in October, 1967 to join her husband who was a Masters student at the University of Manitoba. She lived in Winnipeg with her family. Her husband passed away in 1991 and Norma remarried in 1995 to Thomas Dickens. She spends at least five months in Winnipeg where her husband lives. Since 2006, Mississauga has been her permanent residence where her three daughters and seven grandchildren live.
Her educational achievements include: graduation from Shortwood Teacher's College in Jamaica (1963); B.A. Degree from University of Winnipeg (1980); Certificate of Administration and Management from University of Winnipeg (1988) and Certificate of Personal Function from University of Winnipeg (1982).
Norma has been a teacher for thirty years: three years in Jamaica and twenty-seven years at various schools in the Winnipeg School Division, Manitoba. She has served on many educational committees and assisted numerous community organizations. She served as various school representative on the Winnipeg Teachers Association.