Michelle McCullock aka Michie Mee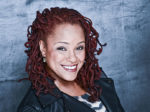 Contact Name:
Michelle McCullock aka Michie Mee
Achievements & Accomplishments:
Michelle McCullock – better known by her stage name, Michie Mee is popular within the music industry for her unique rap style of combining reggae and dancehall with hip-hop. She is a Canadian rapper and actress and the first notable female M.C. She is considered a national hip-hop pioneer.  Many successful artists have followed in Michie's footsteps using her gifted technique. With over two decades in the entertainment industry, the Juno nominated rapper and actress is not only an inspiration for female musicians, but also all artists nationwide.
Michie was born in Jamaica, later moving to Toronto, Ontario at a young age.  She was raised in the city's Jane and Finch neighborhood and began performing at the age of 14. In 1985, during a concert in Toronto, Boogie Down Productions introduced her to the audience and she performed on stage. She later teamed up with DJ L.A. Luv (Phillip Gayle) and formed the duo Michie Mee and L.A. Luv. The duo was featured on the 1987 Canadian Hip Hop Compilation Break'n Out, which was produced by KRS-One and Scott La Rock of Boogie Down Productions. The duo's first single, "Elements of Style" made an impact on the United States and it signed with First Priority/Atlantic Records in 1988. Then in 1991, the debut album, Jamaican Funk-Canadian Style which incorporated dancehall reggae music was released. Over 60,000 copies of the album were sold in the U.S. and it was nominated for a Juno Award in 1992. The duo subsequently broke up and Michie went solo, opening shows for other artists. She became a founding member of the alternative rock band Raggadeath, which had a Canadian chart hit in 1995 with "One Life". In the late 1990's Michie began an acting career and "In Too Deep", was her first film appearance in the 1999's. In 2000, she starred in the CBC Television series Drop the Beat, playing a rapper named Divine. Later that year, she released a comeback album, The First Cut is the Deepest, which spawned the single "Don't Wanna Be Your Slave".