Kharoll-Ann Souffrant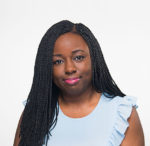 Contact Name:
Kharoll-Ann Souffrant
Achievements & Accomplishments:
Kharoll-Ann Souffrant was born in Montreal to parents of Haitian descent. She lived with depression symptoms for most of her childhood, and it was not until as an adult when she was diagnosed with Bipolar Disorder. Mental health issues were not discussed openly in Kharoll-Ann's family. Despite that, she learned to recognize how her condition manifested itself, so she rebuilt her confidence and regained control of her life. She completed a DEC (pre-university studies) in Delinquency Intervention at Collège Ahuntsic in Montreal. She holds a Bachelor's Degree in Social Work and is now pursuing a Master's Degree in Social Work with an option in Feminist Studies at McGill University.
Kharoll-Ann has an impressive list of accomplishments. She has been volunteering in the community for various social causes since the age of 12. She has offered her time to Amnesty International, the Foundation of the Lakeshore General Hospital, the Link (a newspaper), the Centre for the Help and Combat of Sexual Assault (Calacs) of the island, Tel-listen/Tel-elders and Academos. Through her commitment, Kharoll-Ann has been interested in issues of respect for human rights around the world, violence against women, loneliness among elders, and vocational guidance and perseverance in schools. She was named Young Woman of Distinction by the Y Women's Foundation of Montreal and received the Terry Fox Humanitarian Award.
Kharoll-Ann is a lecturer on the topic of mental health.