Josephine Etowa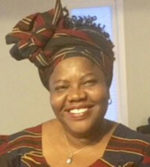 Contact Name:
Josephine Etowa
Achievements & Accomplishments:
Josephine B. Etowa, PhD MN BScN RM RN FWACN FAAN is a Professor and Loyer-DaSilva Research Chair in Public Health Nursing in the Faculty of Health Sciences at the University of Ottawa. She is also a senior Investigator with the Nursing Best Practice Research Centre (NBPRC) at the University of Ottawa, and a founding member, and past President of the Health Association of African Canadians (HAAC). As a nurse, midwife, an international Board Certified lactation consultant (IBCLC), a researcher and an educator, Professor Etowa has worked in various capacities within the Canadian health care system and abroad including Nigeria over the past three decades. Prof. Etowa received her BScN and MScN degrees from Dalhousie University and her PhD in Nursing from the University of Calgary, Canada. She completed a Canadian Health Services Research Foundation (CHSRF) post-doctoral fellowship at the University of Toronto and the University of Ottawa.
Her program of research which is grounded in over twenty-five years of clinical practice in maternal-newborn and child health (MNCH), and in public health nursing addresses the health inequities with a particular focus on the health of African-Canadian women. She investigated the childbirth experiences of African-Canadian women, the perinatal food choices of African immigrant women in Canada, and the work life of Black Canadian nurses research. As an African born scholar, Professor Etowa has demonstrated longstanding passion for global health initiatives especially in the African diaspora.