Joan Pierre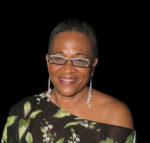 Contact Name:
Joan Pierre
Achievements & Accomplishments:
Joan Amy Pierre migrated to Canada in the 70's from her twin island home in the Caribbean, Trinidad and Tobago.  She worked in the Telecommunication industry for a number of years, until she could define her passion, which she did, in the Arts and Cultural sectors, after earning diplomas in Production and Stage Management, and in Television Production at Ryerson University. Joan has over 25 years' experience in Event planning, project management, marketing, arts and administration, sponsorship, public relations and production management. Joan's vast experience has allowed her to work throughout Canada, the United States and the Caribbean. She has developed a keen understanding of the needs and goals of her clients, which complements her professional and personal one-on-one style.
She has been actively involved in the design, planning and implementation of North American festivals and Special events which includes Caribana; the African Heritage Music Festival (New Orleans); The African Canadian Achievement Awards (Toronto); The Third International Afro-Anglicanism Conference (Toronto); and most recently produced two Fashion shows "Cuttin' Style Caribbean" for the Panamania-Arts and Culture Program, part of the 2015 Pan Am Games in Toronto. Well recognized in her field, Joan also developed and taught a pilot Certificate Program in Event Planning and Event Management for York University's Continuing Education Division.