Gloria Small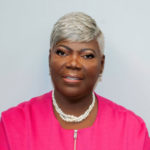 Contact Name:
Gloria Small
Achievements & Accomplishments:
Gloria Small s a passionate individual who engages in life to the fullest. She is a dedicated wife, mother, and grandmother who strives to make a positive difference, especially for the most vulnerable members in society.  Her work has been guided by her faith in God and the loving kindness she has received from others, including her mother.
Mrs. Small is an educated nurse and community activist who is dedicated to improving the lives of those who suffer from mental health issues.  Her nursing career began in Trinidad and Tobago, the country of her birth, and continued after relocating to Canada.  She has been an ardent advocate for improving the mental health systems in both Canada and Trinidad for over 38 years.  She has been a voice for marginalized and excluded populations and has inspired key stakeholders to actively facilitate fair and just health care and access to services for underprivileged populations.
Mrs. Small has also been a sponsor for the rights of health care workers as a union representative with the Service Employees International Union (SEIU). She champions for the rights of those who are being treated unfairly or ostracized for any reason including race and gender.
Mrs. Small is a board member and past chair of the African Canadian Legal Clinic (ACLC). In 2009, she represented the interests of black workers as part of the National African-Canadian Initiative Policy Conference.