Denise O'Neil Green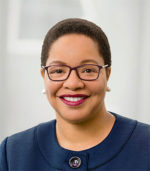 Contact Name:
Denise O'Neil Green
Achievements & Accomplishments:
Dr. Denise O'Neil Green, whose leadership and advocacy have helped to establish Ryerson University's reputation for excellence in equity, diversity and inclusion, was recently appointed Ryerson's first Vice-President, Equity and Community Inclusion.
Dr. Green has a deep-rooted passion for the advancement of diverse classrooms and inclusive campus climates and has championed organizational change on university campuses, both in the USA and in Canada, for over 25 years.  She is an inclusive, strategic leader, under whose direction Ryerson has been recognized as one of Canada's Best Diversity Employers for each of the past three years.
She migrated to Canada from the United States in 2012 and joined Ryerson as the inaugural Assistant Vice-President/Vice-Provost EDI.  She holds extensive academic and administrative experience and has served as Associate Vice President for Institutional Diversity, a professor, and director for student success programs.