Carole A. Chauncey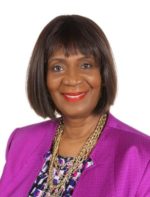 Contact Name:
Carole A. Chauncey
Achievements & Accomplishments:
Dr. Carole Chauncey born in Guyana, South America, holds an undergraduate degree in Biology from Richmond College of the City University of New York in 1971. She worked in the healthcare industry as a Medical Technologist for New York City Department of Health and Veteran's Administration Medical Service Centre, Cleveland, Ohio.  Carole decided to change careers and returned to graduate school after the birth of her daughters. After completing a Master's Degree in Library Science, (M.S.L.S) in one year, 1980, she entered the doctoral program in Information Science, in 1987. Both degrees were completed at Case Western Reserve University in Cleveland, Ohio. Carole was awarded two Higher Education Act Fellowships, while she was enrolled in both the graduate and post graduate programs.
Carole migrated to Canada in 1988, and worked for Baxter Corporation in the Systems Department. She was an Advisory Board Member for the Computer and Communications Network Degree Program, Centennial College. She was also an Advisory Board Member of the Global Partnership Literacy, School Net, Guyana Consulate General. She began teaching at the Ted Rogers School of Information Technology Management, Ryerson University, and taught there for twenty-four years during which time she served as Chair of the Equity Committee of the Ryerson Faculty Association. She was a member of the Status of Women Committee for the Ontario Confederation of University Faculty Associations as well as other departmental and university-wide committees.
Carole founded and administered a mentoring program in Ted Rogers School of Information Technology Management.