Candace Thomas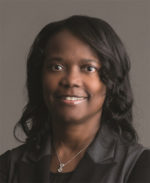 Contact Name:
Candace Thomas
Achievements & Accomplishments:
Candace Thomas is a proud native of East Preston, Nova Scotia and resides in Dartmouth, Nova Scotia with her husband, Lieutenant Commander Easton Dunkley (retired), and their daughter, Marguerite.
Candace is a graduate of The Fashion Institute of Canada, Saint Mary's University and the Schulich School of Law at Dalhousie University.  She is a partner in the law firm, Stewart McKelvey, Atlantic Canada's first regional law firm with a distinguished heritage reaching back to Canada's confederation. It is one of the 20 largest law firms in Canada with more than 200 lawyers in six locations in Atlantic Canada. Candace joined the  partnership in 2005 and is the firm's first Black female partner, following in the footsteps of Senator Donald H. Oliver (retired), who was the first Black partner in the firm's history.
As a member of the Business Law Group, Candace has a diverse corporate-commercial practice, advising clients on matters ranging from mergers and acquisitions and financings to corporate governance and charity law. Candace was included in the 2017 and 2018 editions of The Best Lawyers in Canada for her work in Corporate Law. She received her Queen's Counsel designation in 2017, an honour that recognizes exceptional merit on the basis of professional integrity, good character and outstanding contributions to the legal profession.