Bukola (Oladunni) Salami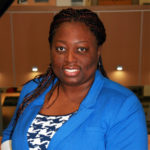 Contact Name:
Bukola (Oladunni) Salami
Achievements & Accomplishments:
Dr. Bukola Salami is aProfessor at the Cumming School of Medicine, University of Calgary. She received the Bachelor's of Science in Nursing from the University of Windsor, and a Master's and PhD in Nursing from the University of Toronto. During her doctoral program, she also completed Certificate Programs in International Nursing, Critical Qualitative Health Research, and a graduate equivalent Diploma in Health Service and Policy Research. Her doctoral work was funded by the Social Sciences and Humanities Research Council of Canada (SSHRC) and the Ontario Graduate Scholarship.
Her research program focuses on policies and practices shaping migrants health. Between 2014 and 2019, she was involved in over 40 funded research projects. She is the lead on 20 of these projects with funding from national and international agencies. She has lead research projects on African immigrant child health, immigrant child mental health, access to healthcare for immigrant children, African immigrant youth mental health, migration of nurses as live-in caregivers, experience of temporary foreign workers in Alberta, downward occupational mobility of immigrant nurses and parenting practices of African immigrants. Dr. Salami has over 45 published scholarly articles in peer reviewed journals (with another 20 under review), 2 book chapters, and 8 reports. She represents the University of Alberta on the steering committee of the Worldwide Universities Network Global Africa Group. She founded and leads an African migrant child research network of 26 scholars from 4 continent. She is involved in several community volunteer initiatives including serving as a public member on the Council of the Alberta College of Social Workers. She has a solid track record of training students.
She has trained over 30 students, many of whom have received awards, including the Canadian Vanier Award and the International Development Research Center Doctoral Award. Dr. Salami has received several awards for research excellence and community engagement: 100 Accomplished Black Women in Canada; Sigma Theta Tau International Honor Society of Nursing Emerging Nurse Researcher of the Year Award; College and Association of Registered Nurses of Alberta (CARNA) Award for Nursing Excellence; and Alberta Avenue Edmonton Top 40 under 40. She has recently been selected as a recipient of the Sigma Theta Tau International Honor Society International Nurse Researcher Hall of Fame, the highest international research award in nursing.
Email: bukola.salami@ualberta.ca
Bukola (Oladunni) Salami, RN, MN, PhD, FCAN 
Professor 
Cumming School of Medicine, University of Calgary