Lisa Skeete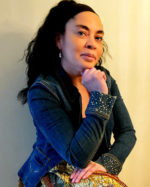 Contact Name:
Lisa Skeete
Achievements & Accomplishments:
Lisa Skeete, was born in Toronto, but spent some of her preschool years in Barbados. Growing up in a family of educators and activists, Lisa had a steady stream of exemplary role models and mentors. Her formative and teenage years were spent traveling between the Caribbean and America where family members, mostly matriarchal in nature, encouraged Lisa to embrace her creative self and her passion for defending others. Lisa was amused with all things arts and culture, the literary world, as well as social activism. While attending Fine Arts, and minoring in African Studies at York University, Lisa was an executive member of the Caribbean Students Association, the Pan African Students Collective, and Unity Force Organized Movement.  These organisations brought social justice, debate and dialogue, and the arts to the campus and community.
Caribbean folklore and music were a muse for Lisa. While studying, Lisa was fortunate to sign on as a contributing writer for Upfront Magazine, a music publication out of Montreal, for "urban" and Caribbean music. While writing on the Rap and Calypso/Soca genre, Lisa met Ron Nelson while covering a Music Conference. That meeting blossomed into a long standing friendship and business relationship with "Friday Night Reggaemania" on CKLN 88.1 FM. Known as "Lisa West", she spent Friday nights interviewing artists in the Roots and Culture/Dancehail genre, coupled with topical debate on issues in the Caribbean community in Toronto and abroad. During that time Lisa founded West Productions, a publicity and events management entity, and worked with several Reggae Dancehall artists both in Canada and Jamaica. Still a reggae and soca enthusiast, Lisa remains entrenched in the industry.