Cynthia Mufandaedza-Moyo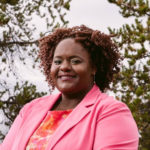 Contact Name:
Cynthia Mufandaedza-Moyo
Achievements & Accomplishments:
Cynthia holds a Diploma in Business Administration and two Event Designing Certifications.  She is the owner of Dash Event Designs and Rentals and Co-Owner of Best Movers which she owns with her husband Randy.  Best Movers is a relocation company that connects the North to the rest of Canada.
In 2018 Cynthia was elected to serve the residents of Yellowknife as the First Black City Councillor for the City of Yellowknife as well as being the First Elected black person in the Northwest Territories.
Cynthia also sits as a Board of Directors for the Stanton Territorial Hospital Foundation where she is passionate about the Foundation's cause and is always excited to give back to the community and the North.