Nadia L. Hohn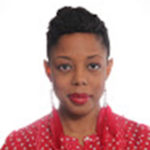 Contact Name:
Nadia L. Hohn
Achievements & Accomplishments:
Nadia Hohn, born in Toronto, is an Author, Performer, Educator, and a Diversity in Children's Literature Advocate, Toronto, ON, Canada.  She has a Master of Education, Sociology and Equity Studies in Education (Culture and Communication), Ontario Institute for Studies in Education (OISE) at the University of Toronto, 2005.  She earned her Bachelor of Education, Ontario Institute for Studies in Education at the University of Toronto. 2002 and her Bachelor of Arts, Honour's Psychology, University of Waterloo, Waterloo, Ontario in 2001.  She also has Intermediate/Senior Level Vocal Music and Dramatic Arts, Additional Qualifications: Intermediate Level English, Primary Basic, Junior Basic, French-as-a-Second-Language, Teacher-Librarian; Primary and Junior Music Specialist completed through Primary/Junior Vocal Music Part 1, Orff Level 1 and 2.
Nadia's is a committed and creative educator.  She has taught in Toronto public schools since 2003.  In 2009, Nadia was one of the inaugural teachers at the Africentric Alternative School, the first school of its kind in Canada.  She was known for the way she integrated African- and Caribbean-history and culture into her lively lessons, incorporated community through guests and assemblies, and planning of educational experiences for her students both in the classroom and outside on memorable field trips.   In 2016, Nadia went to Abu Dhabi and Dubai, United Arab Emirates (UAE) where she taught early years music.