Meseret Desta (Ottawa) Haileyesus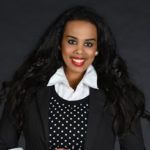 Contact Name:
Meseret Desta (Ottawa) Haileyesus
Achievements & Accomplishments:
Meseret Desta Haileyesus  is the CEO Canadian Center for Women's  Empowerment & Maternity Today.   She is a trained midwife, nurse, and public health expert, Meseret has assisted many pregnant African women through the amazing journey of pregnancy, childbirth, and new motherhood. She is an advocate for universal, equitable access to high-quality midwifery care, reproductive health rights and strategies to reinforce the reproductive health components of health sector reform programs.
She is an ambassador for World Pulse, a global network to amplify women as well as an ambassador for the RHEALYZ Global Empowerment Initiative Africa. She is also an advocate and speaker against Female Genital Mutilation at Laurentian University. She is a founding committee member for Ethiopiaid Canada's Sister to Sister project and a member of the End FGM Canada Network in Ottawa.