May-Marie Duwai-Sowa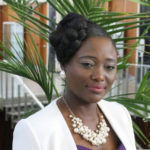 Contact Name:
May-Marie Duwai-Sowa
Achievements & Accomplishments:
May-Marie has over 16 years' experience specializing in community development strategies, public policy implementation, accessibility, diversity, equity and inclusion, across various sectors including not-for-profit, municipal and provincial government.
May-Marie has held various positions including Refugee Case Manager with the Lutheran Social Ministries of New Jersey, Family Service Specialist with the Division of Youth and Family Services (State of New Jersey), Community Developer with Hamilton's Centre for Civic Inclusion, Economic Development Adviser with the Ontario Ministry of Agriculture, Food and Rural Affairs and Accessibility and Equity Specialist for the City of Hamilton. She is also the Founder and Publisher of Illuminessence e-Magazine, dedicated to showcasing exemplary fem-leaders and guys who get it for their remarkable accomplishments.