Martha S. De Gannes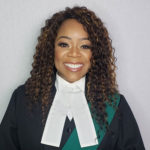 Contact Name:
Martha S. De Gannes
Achievements & Accomplishments:
There are many stages in the process of becoming a justice of the peace. One must have a significant interest in their community, demonstrate humanity, attain the necessary educational qualifications and exhibit a high level of achievement. A Justice of the Peace plays a critical role in the administration of justice; their two main areas of jurisdiction are criminal law and regulatory law court proceedings. With respect to criminal law, a Justice of the Peace presides over virtually all judicial interim release (bail) hearings in the province and the majority of criminal remand courts. They also preside over other criminal hearings.
Her Worship De Gannes was the first black female Justice of the Peace appointed in Durham Region and she was further selected to the position of Local Administrative Justice of the Peace which is responsible for local issues pertaining to the jurisdiction of her bench. This past year, Her Worship received a second Lieutenant Governor Order in Council appointment to become the first black Regional Senior Justice of the Peace in Central East Ontario.