Cherie A. Daniel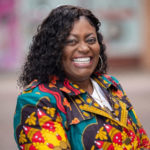 Contact Name:
Cherie A. Daniel
Achievements & Accomplishments:
Ms. Cherie Alexa Ann Daniel, born in Toronto has worked as a sole practitioner Lawyer and in-house Counsel for a National Tax Law Firm. She earned her LL.B (Liverpool), LLM (Osgoode), M Ed (University of Toronto (U of T) – Ontario Institute for Studies in Education (OISE), and is a PhD student (OISE).
She worked as the 1st Black Program Coordinator for a Post- Graduate Certificate in Community and Social Diploma Program at Mohawk College – McKeil School of Business in the Community and Social Services Management.
She was appointed by Mayor John Tory as a part-time Hearing Officer in the first and newly formed Administrative Penalties Tribunal and was also appointed by Attorney General Michael Bryant to the Justices of the Peace Review Council.