Njeri Damali Sojourner-Campbell, M.Ed, JD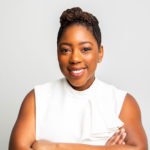 Contact Name:
Njeri Damali Sojourner-Campbell, M.Ed, JD
Achievements & Accomplishments:
Njeri became a licensee of the Law Society of Ontario when she was called to the bar in June 2015. In addition to providing sound representation to her firm's clients, Njeri has become distinguished by her strong legal and business acumen, her problem-solving skills, and her ability to navigate complex legal matters for employers, while remaining grounded in social justice principles.
Notably, in May 2018, Njeri was invited to deliver the keynote address at the annual conference of the Ontario Public Supervisory Officers' Association. Her address "Equity in Education: Practically Speaking" was very well received. As a result, Njeri has been retained to provide legal training to over 1500 school board administrators across the province on the intersection of human rights and education law.
Annually, since 2016, Njeri has been a faculty member of the Osgoode Certificate in Human Rights Theory and Practice. She also delivers an annual seminar in both the Critical Race Theory, and the Lawyering Using an Anti-Racism and Anti-Oppression Lens course at Osgoode Hall Law School.