Brittany Andrew-Amofah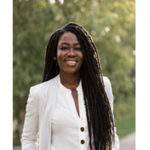 Contact Name:
Brittany Andrew-Amofah
Achievements & Accomplishments:
Brittany is currently the Senior Policy and Research Analyst at the Broadbent Institute, where she is responsible for assisting with setting the research and policy direction of the organization and managing the Broadbent Institute's Fellow Program. With an expertise in applying policy principles to matters of Canada's most pressing public affairs. She is regularly sought out to provide research, analysis and consultation services with a focus on creating a more socially progressive Canada.