Nerene Virgin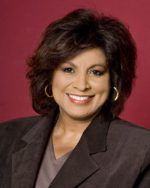 Contact Name:
Nerene Virgin
Achievements & Accomplishments:
Nerene Virgin's decades of work in television have established her as a role model and an inspiration. She is a journalist, performer, educator and presenter.  Nerene is guided by words her mother instilled in her as a child. "You come into this world owning your dignity and decency and you will leave with those traits intact unless you forfeit them along the way". When few Black women were regularly seen on Canadian television, Nerene splintered barriers, railed against prejudice and stereotypes, plotting a course for others.
As a child, growing up in a white neighbourhood in Toronto, Nerene experienced the isolation and degradation of bigotry. Determined to seek solutions, she became a teacher, lending support and encouragement to children. She's certified as a teacher of English as a Second Language and Special Education; the Intellectually Gifted, resolute that education is an underpinning of power. In 1980, she accepted a role that proved the most meaningful of her career-"Jodie" on TV, Ontario's internationally acclaimed educational series, "Today's Special" – watched by millions across Canada, the United States and globally.  Fans and mainstream through celebrities who watched as parents of children constantly approach Nerene to commend her as a role model and express gratitude for so many cherished memories.  Jodie represented strength, caring and integrity – qualities Nerene values. She is praised for instilling a positive perception of Black women in impressionable youngsters.
Nerene continued to play numerous principal roles in commercials, movies and television. In 1988, an executive producer recognized Nerene's popularity with families and convinced her to join "Newsday" as Ottawa's community reporter.  Her family stayed in Hamilton, but insisted she accept the challenge. Ratings tripled when Nerene arrived. Soon CTV-Toronto (CFTO) asked her to relocate and host "Eye On Toronto". Many saw Nerene's hiring as a breakthrough for a station lacking on-air diversity.  A boss later told her she was hired because she wasn't really "Black". This was repugnant to Nerene but she recognized it as an effort to erode her self-esteem. Two Black female co-workers shared painful stories of discrimination and eventually resigned. Nerene persevered, spurred by her mother's words 'Pick yourself up, dust yourself off and get back out there".