Yara Vasconcelos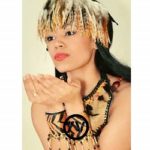 Contact Name:
Yara Vasconcelos
Achievements & Accomplishments:
Yara Vasconcelos is a multidisciplinary artist best known for her passionate, creative expressions through dance, choreography, and fine arts. Born in Huambo, Angola, Yara comes from a family where arts and self-expression were an integral part of daily life. Creativity runs in her family, with relatives who are teachers, actors, musicians and crafters. Even at six years of age, adults were astounded by her Art skill, not believing that she had drawn such intricate pieces herself. At 11, Yara moved to Canada where her passion and skills blossomed. When she arrived in the country, Yara did not speak English, and so she used the language of art and dance to express herself.
Yara draws inspiration from a myriad of sources. Her daily encounters with people, her dreams, music, her movement, emotions, nature and popular culture, all feed into her art work. Her style is playful, adventurous, diverse, fluid and organic. Her paintings are alive with movement. Yara plays with both figurative and abstract elements in her paintings. Elements of her African culture are evident throughout her work, as she uses bright, bold colours, rich textures, and bead work of the Angolan people. Her art and paintings are part of several private collections in Canada, Austria, Portugal and Italy, and have been showcased in numerous art exhibits in Canada.