Valarie Steele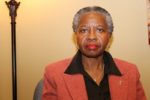 Contact Name:
Valarie Steele
Achievements & Accomplishments:
Valarie H.A. Steele has lived and worked in Canada for the past 45 years. Her range of experience includes financial, government, self-employment and community activism.
Valarie Steele has been working in the Black Community for more than 40 years.  Her advocacy began in the schools, assisting single mothers with issues that were adversely affecting their children. Those early days were very interesting because she did not have children of her own, as yet; but, the sting of racism was still there. It was very evident that in order to fix many issues in the community she had to focus on the children and that meant helping mothers to deal with all kinds of issues.  Once she became a parent, she became involved with the school and school boards in order to ensure that the school had black teachers. She was Chair of the School Council for many years. She had resounding successes and that was very helpful to the community and school community.
 That training ground prepared her for the activism in the wider community. In her journey, she became President of the Jamaican Canadian Association ("JCA"). There are several programmes offered at the social services arm of the JCA. They not only made things better for the women but their children benefitted exponentially. The Violence Against Women's Programme is a remarkable initiative because it gives women the information needed in order to make informed decisions.