Frances-Ann Solomon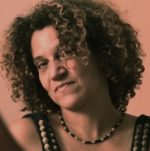 Contact Name:
Frances-Ann Solomon
Achievements & Accomplishments:
Frances-Anne Solomon is a Trinidadian-Canadian-British filmmaker, writer, producer, distributor, lecturer and cultural entrepreneur. Born in England of Trinidadian parents, she began her professional life at the BBC in England, where she built a successful career as a Producer first with BBC Radio Drama, then with BBC Television Drama as Executive Producer.  She also produced and directed independent films through her company Leda Serene Films.
She studied at Bristol University in England and received a degree in Radio, Film & Television Arts before migrating to Canada in 1999. She continued to write, direct, and produce films, television programs, theatre plays, and new media projects. She is also the recipient of a B.A degree in Theatre Arts and English Literature.  In 2001, she founded CaribbeanTales, a charitable organization producing, exhibiting and distributing educational multi-media projects based on Caribbean-heritage stories.
She founded The CaribbeanTales International Film Festival, in 2006 that now includes annual events in Toronto and Barbados, and the Toronto-based CaribbeanTales Youth Film Festival.
In 2010, she founded CaribbeanTales Worldwide Distribution Inc., the first film distribution company in the English-speaking Caribbean dedicated to the marketing and sales of Caribbean-themed films. The CaribbeanTales Incubator Program, now in its 7th year, develops and co-produces original content for the international market.  She then launched CaribbeanTales-TV, a subscription video-on-demand platform, in 2013. CTWD now has a catalogue of over 300 films and television programs available for sale to the international market.
Frances-Anne is also a multi-award winning director whose works include feature films and series for BBC Films, The British Film Institute, and Channel 4 Television in England, and for Bravo! Showcase Television, APTN and the CBC in Canada. Her most recent feature film HERO launching in 2017, shot in Trinidad, the U.K. and Ghana is inspired by the long life and extraordinary career of Trinidadian war hero, diplomat and Judge Ulric Cross. She lives between Barbados, Trinidad and Toronto and cares about Animal Welfare, Arts and Culture, Civil Rights and Social Action.