DJanet Sears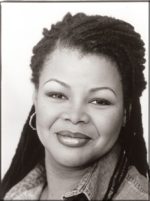 Contact Name:
DJanet Sears
Achievements & Accomplishments:
Djanet Sears was born Janet Sears in London, England to parents of Caribbean descent; her mother is Jamaican and her father is Guyanese. She lived in England until 1974, when her family moved from London to Saskatoon, Saskatchewan in Canada. Her family then relocated to Oakville, Ontario in 1975 and Djanet remained there until 1977.  She then moved to Toronto, Ontario to attend York University and there, received an Honours Bachelor of Fine Arts in Theatre. She also studied at the Canadian Film Centre and New York University in New York. In the 1980s, questioning her place in Canada as member of a visible minority and in search of her ancestral roots she traveled to West Africa. It was a cathartic experience, when she came across a plateau area called Djanet. This inspired her to change her name to Djanet and embrace her African ancestry.  She returned to Canada and constructed the play Africa Solo, a semiautobiographical one-woman show about her path of self-discovery from childhood through her time in Africa. Published in 1990, it was the first play by an African-Canadian playwright to be published. The Canadian Broadcasting Company Radio produced the play and she won the International Armstrong Award for Outstanding Radio Play, which brought her national recognition and a lightning rod to galvanize a force for the African-Caribbean theatre movement.
Sears has earned international fame as a talented writer, director and performer. She has written critically acclaimed plays, in addition to Afrikca Solo, Harlem Duet and the Adventurers of a Black Girl in Search of God-a work for which she won Canada's highest literary award, The Governor General's Literary Award, in 1998. She has directed and produced numerous other plays and has won several awards.  There are central themes present in all of Sears's plays. The most obvious themes presented have to deal with race relations, with gender issues, with individual as well collective identity searching and with political action. All of her main chapters are women, and while most of their struggles are universal, they do face certain issues that are specific to being woman.  Djanet also belongs to a number of organizations and is the founding member of the Obsidian Theatre in Toronto, a theatre dedicated to producing works by authors of African descent living or working Canada.