Ettie Rutherford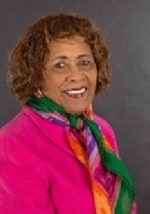 Contact Name:
Ettie Rutherford
Achievements & Accomplishments:
Ettie Rutherford, a Jamaican immigrant, is a retired elementary school Principal, and the author of her first book "Women Are Worthy: Why Perch like a Chick When You Can Soar like an Eagle?"
Ettie's memoir, focuses on her teen-age pregnancy, years of spousal abuse, and being abandoned in Calgary with four young children. In spite of a life filled with such challenges, Ettie graduated from the University of Calgary with a B.Ed., Dip.Ed. and M.Ed. degrees. Through the Congress of Black Women of Canada, Ettie has served as National Vice-President, working with Congress chapters from British Colombia to Nova Scotia. She also served as Provincial Representative for Alberta and Ontario, during which time, she started the York Region and the Oshawa-Whitby chapters.
Ettie's goal is to continue using her consulting businesses, Women Are Worthy, and ER – Education-Services to enable women to realize their worth and attain success in the workplace and as parents. In order to give women meaningful service she has recently developed three programs: "R-I-S-E-U-P", "Women Balancing Home and Work" and "Parenting With a Vision".