Gemma Raeburn-Baynes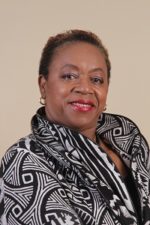 Contact Name:
Gemma Raeburn-Baynes
Achievements & Accomplishments:
Gemma Raeburn-Baynes, a graduate of McGill University and Community Activist was born in Grenada, West Indies and migrated to Montreal, Canada where it did not take long for her to integrate into her new environment. Just weeks after migrating as a teenager, she started the first youth choir at the St. Francis Church where her mother played the organ.
Gemma Raeburn-Baynes is a retired Senior Auditor with the Bank of Montreal (BMO), where she has worked since 1973.  In addition to her banking career, she has also been active in business, community development and charitable initiatives.  Gemma is very active in Montreal's Black Community as an avid Fundraiser for various non-profit and charitable organizations.  She helped start the Montreal's Caribbean Carnival and founded the Play Mas Cultural Association that raises funds for Sickle Cell Anaemia,; the now defunct Miss Black Quebec Pageant and Montreal Ebony Models,; the city's first Black modeling agency that generated nearly 1.5 million in a 27-year span through fashion shows that was designed to instill pride and self-confidence in young Black women and was involved in the Montreal Caribbean Fashion Week which took place in Spring 2015. She has received several awards, including the Queen Elizabeth II Diamond Jubilee Medal from the Lieutenant Governor of Quebec, recognizing her as a strong advocate for the promotion of culture through the performing arts and anti-racist education, the Grenada-Toronto Association Consul General Award and the Sheila & Victor Goldbloom Distinguished Community Service Award.
Despite disabilities, Gemma remains active. She is involved in the Taste of the Caribbean Festival that she started over 15 years ago.  The Festival showcases the Caribbean's rich culture, craft and tasty culinary delights. Through her work, Gemma has established herself as what is known in academia as a social entrepreneur, both as a leader pursuing significant community endeavours and as a group facilitator managing networks to achieve large-scale societal objectives.