Evelyn Myrie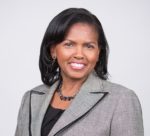 Contact Name:
Evelyn Myrie
Achievements & Accomplishments:
Evelyn is a highly experienced, innovative and results-oriented professional with more than 20 years helping public sector and social profit organizations translate their vision into action, through team building, problem solving, driving strategic change, efficient and effective leadership for sustainable growth and development.  She is currently the CEO of EMpower Strategy Group, a boutique consulting Company, founded 2011, with the primary goal of providing the expertise that transforms organization and individuals. She designs and delivers powerful leadership development in areas of Stakeholder Engagement, Capacity Building, Community Leadership and Communications.  
Prior to her position with the EMpower Strategy Group, she held numerous leadership positions in government and business.  She has been a strong business woman, served as Program Director at Status of Women, Canada, worked for diversity as the Executive Director of the Hamilton Centre for Civic Inclusion, Founding Director of Peel Newcomer Strategy Group and founded the Rev. John C. Holland Awards to recognize Black Achievement in Hamilton. In recognition of her accomplishments, Evelyn has been the recipient of many Awards, which include, the 10 Year Volunteer Award (for Black History Committee), Ministry of Citizenship and Immigration, Ontario,  the Queen Elizabeth II Diamond Jubilee Award, Government of Canada, the Queen Elizabeth Golden Jubilee Award, Government of Canada, Community Service Certificate, Social Planning Certificate, Portrait of Success Award, Hamilton Spectator and the Woman of the Year Public Affairs Award, City of Hamilton. She was also inducted into Hamilton's prestigious Gallery of Distinction.