Karine Morin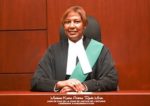 Contact Name:
Karine Morin
Achievements & Accomplishments:
Karine is Canadian born from Haitian parents and graduated from York University in 1990 with a Bachelor's degree in Women's Studies. At York University, she was very committed to the cause of Francophone minorities and took the lead to organize the International Women's Week at the campus, the International Culture Annual Gala Event, and the very first conference on violence against women for francophone immigrant families and in so doing, created a safe environment for women to have exchange on their issues. 
She began her career at the Victim/Witness Assistance Program of the Ministry of the Attorney General, working mainly with immigrant women who were victims of Sexual Assaults and Domestic Abuse. She is proud to have participated in the implementation of the first Special Court to hear cases of abused children, a program that now exists throughout the province. She was the only person in Toronto to offer services in French to the victims and worked on many French trials. It was her first steps through the Canadian Legal System. 
With her ability to manage crisis situations, she also worked as a counsellor at the 1.800 Line for abused children, "Kids Help Phone". She conducted key interventions, such as suicide prevention for young children and particularly young girls who were otherwise isolated in their community.