Paulette Kelly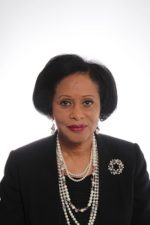 Contact Name:
Paulette Kelly
Achievements & Accomplishments:
While in elementary school, Paulette Kelly received her first sewing lesson which sparked her lifelong love of fabrics and sewing.  Later, as a high school student, she discovered her passion for teaching, and dreamed of one day returning to her high school to teach in the Fashion Design Program.  After graduating from the Fashion Institute of Technology in New York City with an Associate Degree in Apparel Design and Related Art, she gained work experience in the New York City fashion industry. She then returned to her high school, Eli Whitney Technical Vocational High School located in Connecticut, as a teacher in the Fashion Design Program.  She was the first visible minority to ever teach at that school. While teaching, she earned a Bachelor of Science Degree in Vocational/Industrial Education. She then went on to earn a Masters of Arts in Clothing and Textiles from the University of Connecticut.
In 1975, Paulette Kelly was recruited by Ryerson Polytechnical Institute (now Ryerson University) to teach in a tenure track position. Currently, she is a full professor at Ryerson University's School of Fashion, specializing in Fashion Design and Clothing Technology. She has participated in many international, national and local initiatives in conjunction with Ryerson University. In 2000 and 2005, she was Ryerson University's Faculty Representative for the International Young Designers Competitions held in Paris, France. She travelled to Ghana in 2009, to design and produce uniforms for kindergarten children. In 2011, she served as Project Leader for the Triumph Student Competition, which was featured on Breakfast Television. Within the university, Paulette has served as an Advisory Board member for the Tri-Mentoring Program and also as Program Director of the Fashion Design Segment within the School of Fashion. She is also a member of the Black History Awareness Committee and the Black Faculty and Staff Community Network.  Professor Kelly was honoured at the 2013 Viola Desmond Day Program, with the Harriet Tubman Ryerson Faculty Award.