Sandra Jones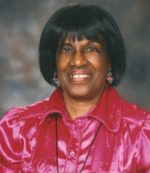 Contact Name:
Sandra Jones
Achievements & Accomplishments:
Sandra came to Canada from Guyana in 1967.  However, before migrating to Canada, she worked for three years in the field of Social and Welfare Services, which partially satisfied her passion for travel, meeting new people, learning the culture in different areas and really expanding her knowledge and horizon.  She also worked as a Supply Teacher in the Public School System, particularly with children, and there, she was able to use her training in Early Childhood education. 
In Canada, she first worked as a Supply Teacher in the Scarborough, Durham, Toronto and North York School boards.  She studied and later earned a Certificate in Advanced Early Childhood Education from the University of Toronto. Sandra also worked in a pre and post-natal Nursing Program.  Since that time, she has worked as a Childhood Early Education Certified Teacher at the Metro Social Services Division until she retired in 2005. However, Sandra may have left the formal work force but that did not stop her from utilizing her time elsewhere. After the "Coup" in Haiti in 1994, she traveled there with some members from her church to assist the children, women and seniors in various ways.  She taught craft, English and mathematics, sewing and Bible studies. Sandra is very passionate about helping others. She volunteers at her Church as a Sunday sSchool teacher helping the youth, the homeless and other women in her community. She is described as the "Consummate Volunteer". She also volunteered at Gilda's Club for 10 years, working with children with cancer. She taught craft, took them to day-camp and engaged them in sing-a-long. The parents were also welcomed to participate.
For 40 years, Sandra has been a volunteer and member of the St. John Ambulance Brigade, from a cadet to her senior years which means she became part the Fellowship Division.