Eunadie Johnson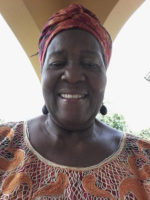 Contact Name:
Eunadie Johnson
Achievements & Accomplishments:
Ms. Johnson was born in Marigot, Dominica and in 1967, migrated to Winnipeg in Manitoba, Canada.  She eventually moved to Thompson, Manitoba, due to experiences of racism while seeking employment and a place to live.
While living in Thompson, Eunadie became involved in a number of initiatives; many of which she was instrumental in conceptualizing, developing and implementing.  She was the founding member of the first Afro-Caribbean Association of the North, as well as the Manitoba Chapter of the Congress of Black Women. She founded the Manitoba Immigrant Women's Association which later became the Association of Immigrant and Visible Minority Women.
Eunadie also established the first women's shelter in Northern Manitoba. She was the Northern Representative for the Canadian Association of Sexual Assault Centres and later became the Western Regional Representative. While still confronting racism, Eunadie continued to advocate for women's rights.  She was selected by the Mulroney Government to be part of the nation's Constitutional Talks. She was later appointed to the Federal Committee to address practices affecting the hiring of visible minorities in the Public Service.