Avril Jno-Baptiste-Jones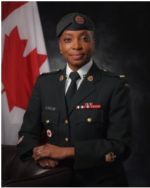 Contact Name:
Avril Jno-Baptiste-Jones
Achievements & Accomplishments:
Avril Vanessa Jno-Baptiste-Jones, was born on the lovely nature island of Dominica in the Caribbean, and not to be confused with the Dominican Republic.  Avril says, as a young girl, she was very quiet and quite shy. She spent her formative years in Dominica under the guidance of an amazing mother Josephine, who raised her children with many great values. She continued to say  that the values that stood out most were: work hard at whatever she does,; work hard for what she wants,; always be honest, because if you get in trouble someone will know how and where to start helping you and also, always treat others the way you want to be treated.  She attributes her life's successes to her mother who equipped her with the tools to face this world with confidence. She attended the Dominica Grammar School and was an avid Track and Field athlete. Her dream, however, was to become a nurse. She migrated to Canada to be with her father, who had immigrated to Canada.  He was determined to provide a better future for his daughter, and she was equally determined to use these opportunities to secure a career in nursing by taking co-op courses in high school. She attended Pope John Paul II Catholic Secondary School in Scarborough, Toronto. Later, she returned to Dominica for a few years and then moved back to Canada where she re-enrolled at Pope John Paul II Catholic Secondary School to complete her secondary studies. She continued pursuing her dream to become a nurse.  Unfortunately, through circumstances beyond her control, that dream had to be put aside.