Dorothy Jarvis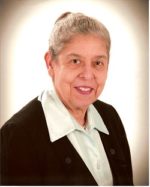 Contact Name:
Dorothy Jarvis
Achievements & Accomplishments:
Dr. Jarvis says she was lucky to have found a career that combined her two passions: working with children and medicine.  Born in Jamaica, she became a Doctor in 1969, graduating from the University of the West Indies, (U.W.I.) Kingston, Jamaica.   She lived on the campus, and refers to her relationship with U.W.I. as a family affair and very close to her heart. After her internship at the U.W.I. Hospital, she worked for two years as a Casualty Officer at Holberton Hospital, Antigua, and had a part-time family practice.  Dr. Jarvis migrated with her husband to Canada in 1972 and completed paediatric training in the Department of Paediatrics, University of Toronto. Certified by the Royal College of Physicians and Surgeons of Canada in 1976 she joined the Department of Paediatrics and The Hospital for Sick Children (Sick Kids) and remained until retirement in 2010.
At a Toronto Gala in 2014, where she was being honoured, she recalled one of the highlights of her career was, when she had the opportunity to work on the late Dr. Mustard's team. He was the first cardiac surgeon in the world to save children with complex congenital heart disease.  Until Dr. Mustard perfected his surgical techniques, most of these babies died. It was a game-changer – just marvellous. She also noted that another career highlight was being part of the development of "Emergency Medical Services". She went on to say that "When I came to Canada, they didn't have paramedics; the service started in 1984, and I was very lucky to have been invited to teach some of the first groups of paramedics.  That was a whole adventure and certainly, I never thought working in paediatrics, I'd have a chance to be part of that."
Dr. Jarvis held a succession of academic appointments at the University of Toronto, in addition to hospital appointments. Leadership positions included Associate Dean, Health Professions Student Affairs, Faculty of Medicine and Medical Director of Sick Kids Emergency. The recipient of a host of teaching awards, her trainees now work as leaders in clinical, education and administrative positions around the world. She served as an examiner for the Royal College of Physicians and Surgeons of Canada, invited lecturer to countless education events across Canada and member of the National Task Force that led to the accreditation of Paediatric Emergency Medicine (PEM) by the Royal College. A leading proponent of Paediatric Life Support education, she trained providers and instructors through the Michener Institute Program 1984-2015.