Angela James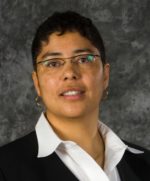 Contact Name:
Angela James
Achievements & Accomplishments:
Angela was a resident in Flemingdon Park from 1966 – 1981 with her two sisters Kim, Cindee and Mother Donna. She played Ice Hockey for the Flemingdon Boys House League and other select teams for two or three seasons.  Angela also played Softball for the local team in the area. She attended Gateway public school in JK and SK and then transferred to John XXIII Catholic School. Once she finished grade 6, Angela attended Valley Park Jr. High School and then crossed the street to, at the time, the Overlea Secondary School.  Her Mother moved the family to Georges Vanier high school, when Angela was starting grade 10.
Ms. James was a member of the Canadian Women's Hockey team for 10 years, winning a remarkable four World Gold Medal Championships and four International Pacific Rim Championships. In addition, she was a member of the 1992 and 1994 Canadian Women's Roller Hockey Team, which won gold at the World Championships. In a controversial decision, Ms. James was excluded from Team Canada's Women's Team for the 1998 Winter Olympics.  Pundits were shocked because, from 1987 until that time, she had been Canada's perennial scoring threat, no matter where and when played. She is an honoured member of the Seneca College Hall of Fame, the Ball Hockey hall of fame and the OCAA Hall of Fame, a Seneca Distinguished Alumnist and has had her sweater retired by Seneca College and the Toronto Aeros Hockey Club. In 2012, she was the recipient of the YWCA women's distinguished award. In three seasons with the Scouts, Angela was a three-time OCAA scoring champion, two-time OCAA All-Star, three-time team MVP, the OCAA's all-time leading scorer with over fifty goals and amazingly reached this mark while playing mostly defense. In 2008, she was one of the first female in history, to be inducted into the International Ice Hockey Hall of Fame (IIHF). Also the Angela James Bowl was instituted, awarded annually to the leading scorer in the Canadian Women's Hockey League (CWHL). She was inducted into the Canada's Sports Hall of fame and the Flemingdon Park Arena was renamed after her. In 2010, Angela along with fellow American, Cammie Granato was the first female to be inducted into the Hockey Hall of Fame. Angela James was dubbed the "Wayne Gretzky of women's hockey".