Thando Hyman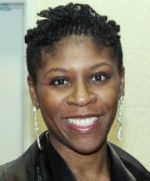 Contact Name:
Thando Hyman
Achievements & Accomplishments:
Thando Hyman is a dynamic young leader and highly qualified educator with a proven track record that encapsulates her professional career. With over 18 years of teaching and administrative experience in the Toronto District School Board, she has a demonstrated commitment to educational and community leadership, to student success and teaching practice, curriculum development, and to equity and diversity. Ms. Hyman has served as an Equity Instructional Leader at the Toronto District school Board and Principal of General Brock Public School, the Africentric Alternative School.  She is currently Principal of Alexander Stirling Public School in the Malvern community. She holds a Bachelor of Arts, Bachelor of Education and Master of Education from York University.
 Thando Hyman was the first Principal of Toronto's Africentric Alternative School which opened its doors in September 2009 for students from JK to Grade 5. Due to the overwhelming response and support for the school, the enrolment doubled to 160 students by the end of its first week in September 2009. In its second year, the Africentric Alternative School made national headlines when the inaugural Grade 3 class significantly outperformed both the school board and the province with 69% in reading, and 81% in writing and mathematics. With the success of the Africentric Alternative School, the TDSB has now commenced a secondary program.