Alda Arthur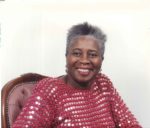 Contact Name:
Alda Arthur
Achievements & Accomplishments:
Alda was born in Sydney, Nova Scotia but has resided in Toronto over forty five years and her occupations have been varied. After completing a Nursing Assistant's course, she graduated from the Addiction Research Foundation as a Counselor and worked there for seven years. Alda Arthur, a multi-talented woman of many interests was the founder and publisher of a business tabloid: Women and Business but in 1984 the business "folded". Another interest close to Alda's heart was the Association of Black Women which she founded in 1982. This was a club of Black business and professional women who provided support and information through business contacts and career development programs.
Arthur said the Association of Black Women did not isolate itself as a Black Group, but shared experiences with all women. The skills of the high-profile group were improved by attending seminars and workshops in the community to be used as a role model. Although the club ceased to operate in 1986, Alda continued to meet challenges on a day to day basis and is always ready to move on to other opportunities. She said with confidence at the time, "My hope is that someday the Association will rise again, in another form, by spirited Black women. It's a need that should never die".