GRENADA BORN SOCIAL JUSTICE ADVOCATE JEAN AUGUSTINE HONOURED WITH CARIBBEAN TOURISM ORGANIZATION'S HIGHEST AWARD
GRENADA BORN SOCIAL JUSTICE ADVOCATE JEAN AUGUSTINE HONOURED WITH CARIBBEAN TOURISM ORGANIZATION'S HIGHEST AWARD
~ The retired teacher and Canadian politician was presented with the CTO Lifetime Achievement Award at glitzy event in Toronto ~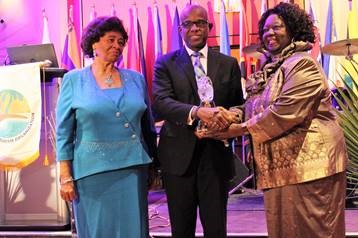 Above: Jean Augustine (right) receives CTO Lifetime Achievement Award from CTO secretary general Hugh Riley (centre) while close friend Rita Cox (right) looks on.
Below: Chef Raymond Chung (right) of Doubletree Hilton Downtown Toronto presents cash donation to CTO secretary general Hugh Riley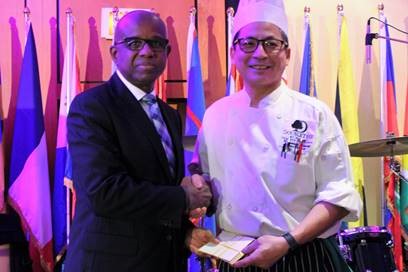 TORONTO, ON, 13 November, 2017 –  The Caribbean Tourism Organization (CTO) has bestowed its most prestigious honour on social advocate Jean Augustine.
The Grenada-born retired Canadian school teacher and politician was given the CTO Lifetime Achievement Award – the first person ever to be given this award in Canada – at a glitzy Caribbean Ball in Toronto on Friday evening.
"For your many years of passionate involvement in civic and diaspora activities, your extensive advocacy for education and social justice, your dedication to the development of the Caribbean and your leadership in investing in our youth by the establishment of the chair in education, community and Diaspora at York University; for these and other outstanding achievements which are symbols of your commitment to our youth, the African Caribbean community and all citizens, we honour you," the citation said.
Ms. Augustine was a trailblazing politician and social activist, having worked her way from a nanny when she first arrived here in 1960, to become the most powerful black woman in the Canadian parliament.
She was the first black woman elected to the Canadian parliament and the first black cabinet minister, acting as Prime Minister Jean Chrétien's trusted voice on committees and at international meetings and in Parliament when he was absent from the house of commons.
During her acceptance speech, the Ms. Augustine described how she once persuaded the Canadian prime minister to meet Caribbean leaders in the region instead of having them travel to Canada. That meeting was held in her country of birth, Grenada. She also described her battle to get the government to ease visa restrictions on Caribbean nationals, a battle she said she lost.
Prior to serving in parliament, Ms. Augustine was a school teacher and during her career in the teaching service she was an activist in Toronto's Caribbean communities, volunteering with grassroots organizations to strengthen immigrant and women's rights and to combat violence against women, drug abuse and poverty. In 1967, she served on the committee that helped organise the first Caribana festival, and in the mid-1990s she played a crucial role in establishing Black History Month in Canada.
"The Caribbean Tourism Organization's Lifetime Achievement Award honours individuals who have made an outstanding contribution to society and who, by their example, have inspired at least one generation.  Ms. Augustine's achievements have far exceeded those criteria," the CTO said.
Ms. Augustine promised to place the award in a fitting location where it can be seen and appreciated by members of the public.
The honouree was introduced by her close friend Dr. Rita Cox, who shared compelling stories of Ms. Augustine's advocacy on behalf of the region and her dedication to teaching.
The event was addressed by Ontario's minister of education Mitzie Hunter, while minister of tourism, culture and sport Eleanor McMahon, who was unable attend, sent a message of welcome in which she described Caribbean Week Canada as "a wonderful way to celebrate our vibrant Caribbean-Canadian culture, which is such an important part of many communities in Ontario".
"I invite everyone to take advantage of the opportunity to network and discover new and exciting ways to strengthen tourism ties between Ontario and the Caribbean. I would like to thank the Caribbean Tourism Organization, its partners and volunteers for their commitment to a sustainable tourism industry that contributes to the well-being of the people of the Caribbean," she stated.
The Caribbean Ball, which was held at the Doubletree Hilton Downtown Toronto, was a fundraiser for the CTO's hurricane relief fund and the CTO Foundation, the organisation's scholarship programme which provides scholarships and grants to Caribbean nationals pursuing studies in tourism and hospitality.
During the event, the hotel's wait staff presented over $1,000 to the CTO's secretary general Hugh Riley, monies collected through their own fundraising efforts to help Caribbean countries that had been affected by hurricanes Irma and Maria.
Organized by the CTO, Caribbean Week Canada 2017 combines business sessions and consumer-oriented events with Caribbean-inspired food, lively entertainment and networking opportunities.  
The remainder of the Caribbean Week Canada 2017 agenda includes:
Toronto, Canada
Trade Show and Educational Forum for Travel Agents: Tuesday, 14 November, 2017, 8 – noon., Improve Canada
Tourism Industry Panel Discussion: Tuesday, 14 November, 2017, 12:30 – 3:30 p.m., Improve Canada
Montreal, Canada
Trade Show and Educational Forum for Travel Agents: Thursday 16 November, 2017, 5:30 – 9 p.m.  InterContinental Hotel
Media Marketplace: Friday, 17 November, 2017, 10:30 – 12:30 p.m., InterContinental Hotel
Media Awards Luncheon with National Tourist Offices: Friday 17 November, 2017, 12:30 – 2 p.m., InterContinental Hotel
For more information on any of the Caribbean Week Canada events contact the Caribbean Tourism Organization at 905-857-1986 or visit canada.caribbeanweek.com.
About the Caribbean Tourism Organization
The Caribbean Tourism Organization (CTO), with headquarters in Barbados, offices in New York and London and representation in Canada, is the Caribbean's tourism development agency comprising membership of the region's finest countries and territories including Dutch, English, French and Spanish, as well as a myriad of private sector allied members. The CTO's vision is to position the Caribbean as the most desirable, year round, warm weather destination, and its purpose is Leading Sustainable Tourism – One Sea, One Voice, One Caribbean.
Among the benefits to its members the organization provides specialized support and technical assistance in sustainable tourism development, marketing, communications, advocacy, human resource development, event planning & execution and research & information technology.
In addition the CTO, in partnership with the Caribbean Hotel & Tourism Association, jointly and equally owns the Caribbean Tourism Development Company, a marketing and business development entity dedicated to promoting the Caribbean brand worldwide.
The CTO's Headquarters is located at Baobab Tower, Warrens, St. Michael, Barbados BB 22026; Tel: (246) 427-5242; Fax: (246) 429-3065; E-mail: CTObarbados@caribtourism.com;
The CTO's New York office is located at 80 Broad St., Suite 3302, New York, NY 10004, USA: Tel: (212) 635-9530; Fax: (212) 635-9511; E-mail: CTOny@caribtourism.com;
The CTO's London office is located at The Quadrant, Richmond, Surrey TW9 1BP, England. Tel: 011 44 208 948 0057; Fax: 011 44 208 948 0067; E-mail: CTOlondon@caribtourism.com.
CTO has representation in Canada; Tel: (905) 857-1986; Email: droletn@caribtourism.com
For more information on the Caribbean Tourism Organization, please visit www.OneCaribbean.org. Get the latest updates and connect with CTO via Facebook, Twitter, Instagram and LinkedIn.