The 2019 Transformation Awards

Description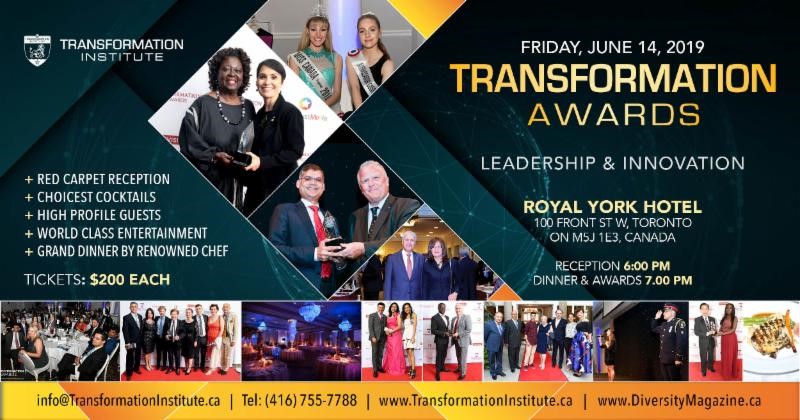 THE 2019
TRANSFORMATION AWARDS
FRIDAY, JUNE 14
AT THE ROYAL YORK HOTEL
The prestigious Transformation Awards gala will be held on Friday, June 14th, 2019, at the Royal York Hotel. You are invited to celebrate leadership, excellence and innovation. A panel under the direction of the Transformation Institute for Leadership and Innovation as well as Silvertrust Media, the parent company of Envision Magazine and other publishing, broadcasting and special initiatives, selects honourees and facilitates the gala activation.
The Transformation Awards gala features a red carpet reception, a sumptuous dinner, multicultural entertainment, inspiring recipients, high profile presenters, a classy ceremony and youth from the Crossover Mentorship Program. With a focus on leadership, excellence and innovation through cross-cultural integration, the project's mission is to inspire, transform, empower, showcase, celebrate, and integrate various elements of our heritage for a more perfect mosaic.
Past recipients of the awards include: Dr. Mamdouh Shoukri, President of York University; Jennifer Tory, Chief Administrative Officer, Royal Bank of Canada; Karim Hakimi, Founder Hakim Optical; Senator Viviene Poy; Douglas Cardinal, Architect and Philosopher; Lincoln Alexander, Former Lieutenant Governor of Ontario; Anthony Lacavera, Founder & Chairman, Globalive & Founder, Wind Mobile, among other distinguished recipients.
Awards are handed out in twelve categories including: Leadership, Innovation, Legacy, Excellence, Public Service, Community Service, Media, Entertainment, Enterprise, Harmony, Heritage and Lifetime Achievement. This is the finest and only event of its kind in all of Canada. Proceeds go to support the work of the Transformation Institute, including the Crossover Mentorship Program for youth.
GALA HIGHLIGHTS
Date: Friday, June 14th, 2018
Awards: Reception 6:00 PM, Dinner & Awards 7.00 PM
Venue: Grand Ballroom, Fairmont Royal York Hotel
Address: 100 Front Street West, Toronto, Canada
Tickets: $200 each or $2,000 for each corporate table of 10
Info: TransformationInstitute.ca
RSVP: admin@transformationinstitute.ca | (416) 755-7788
SPONSORS AND SUPPORTERS
Present and previous sponsors and partners include: RBC, TD, Ryerson University, Jodal Health Care, OMNI Television, Afroglobal Television, Skylink Capital, Dream Maker Realty, Ethiopian Airlines, Bullion Mart, Kii Naturals, The Component Bed, Highburry Canco and Silvertrust Media. The gala is set to be showcased on OMNI Television, Envision Magazine as well as other media platforms.
www.TransformationInstitute.ca  |  Tel: (416) 755 7788
Social: @TransformationInstitute  #TransformationAwards