Dr. Dorothy Williams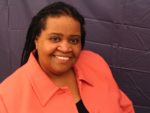 Contact Name:
Dr. Dorothy Williams
Achievements & Accomplishments:
As Strategic Development Director of the non-profit, Collective Community Services, located in Verdun, Montreal, Dr. Williams works to develop innovative programs and partnerships to improve the lives of English-speaking residents. She has worked as an historian, author, educator, researcher, content developer, and consultant.
 Dr. Williams specializes in Black Canadian history and has authored three books and contributed to other scholarly and academic publications. Her first book was Blacks in Montreal, 1638-1986: An Urban Demography, was written at the behest of the Quebec Human Rights Commission in 1989, during their study of racism in Montreal's housing market. Her second work, published in 1997, The Road to Now: A History of Blacks in Montreal, remains the only chronological study of Blacks on the island of Montreal. Her most recent book in 1998, Les Noirs à Montreal, Essai de demographic urbaine, was a translation of Blacks in Montreal. 
With a strong afro-centric focused perspective, Dr. Williams' Ph.D. thesis, "Sankofa: Recovering Montreal's Heterogeneous Black Print Serials," explored the range of Black print culture in Montreal. In addition, she has penned popular articles in magazines and newspapers about black culture in Canada. In addition, Dr. Williams has contributed to various refereed anthology volumes, such as D. Brundage, M. Lahey, eds. Acting on Words: An Integrated Reader, Rhetoric and Handbook and in two volumes of the University of Toronto Press, History of the Book in Canada/Histoire du livre et de l'imprimerie au Canada. Moreover, Dr. Williams has published in professional journals in her doctoral field of Library and Information Studies, such as Canadian Journal of Information and Library Science.